November 16, 2023 | Archer Aviation And Air Chateau International Announce Air Chateau International's Planned Purchase Of Up To 100 Midnight Aircraft Worth Up To $500M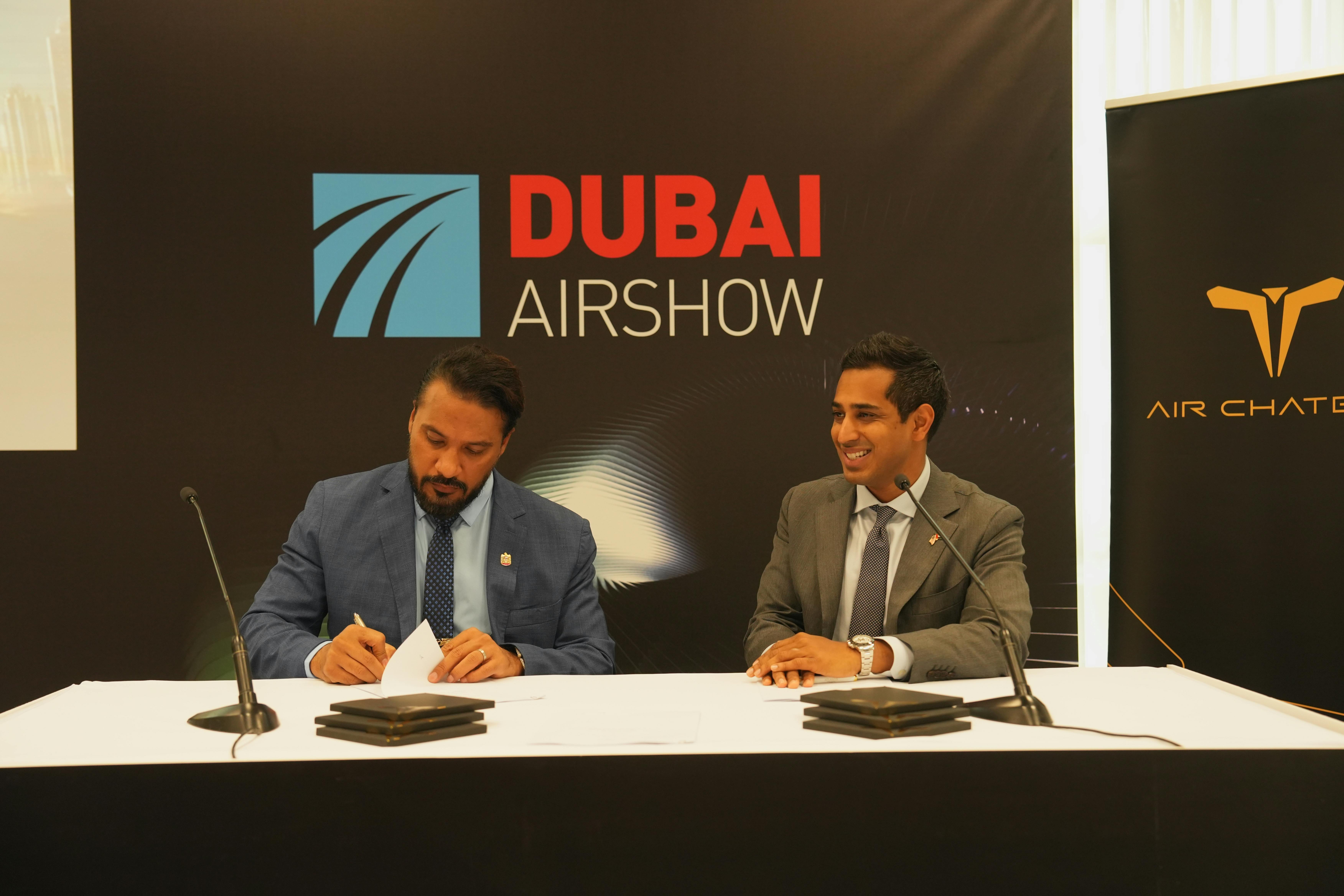 Today at the Dubai Air Show Air Chateau and Archer signed a memorandum of understanding (MOU) covering the planned purchase and providing for an initial non-refundable, pre-delivery payment of $1M by December 31, 2023
The two companies will now work to formalize definitive agreements covering the planned purchase over the coming months, with additional pre-delivery payments of $4M contemplated to be paid following signing
Air Chateau plans for Acorn Capital Ltd., a privately held investment group with interests in aviation financing and aircraft trading, to be its financial partner in this transaction
The strategic relationship is intended to further strengthen Archer's recently announced plans to commence air taxi operations in both Abu Dhabi and Dubai in 2026
DUBAI, United Arab Emirates, November 16, 2023 – Archer Aviation Inc. (NYSE: ACHR), a leader in electric vertical takeoff and landing (eVTOL) aircraft, and Air Chateau International DWC LLC, one of the leading private aviation operators in the UAE, today at the Dubai Air Show 2023 signed an MOU covering a planned purchase by Air Chateau of up to 100 of Archer's Midnight eVTOL aircraft with an approximate value of $500M and providing for an initial non-refundable, pre-delivery payment of $1M by December 31, 2023. Air Chateau plans to own and operate the Midnight aircraft in the region. The two companies will now work to formalize the definitive agreements covering the planned purchase over the coming months, with $4 million of additional pre-delivery payments contemplated to be paid following signing. 
Air Chateau was the first private heliport operator company in the UAE to have its heliport and lounge terminal at the land side of Dubai World Central Al Maktoum International Airport, Dubai Helipark and with multiple touch points across the UAE. Air Chateau's operations offer last mile services targeted at ultra-high net worth individuals, including connectivity between airports, cities and strategic points and key attractions. 
The relationship is intended to further strengthen Archer's recently announced plans to commence air taxi operations in both Abu Dhabi and Dubai in 2026. The parties intend to explore opportunities to collaborate on bringing in the infrastructure investment necessary for these cities to be ready for these planned operations.
"It was an honor hosting Air Chateau's team at the Dubai Air Show 2023 during which they were able to touch, see and feel our aircraft as it headlined the show," said Archer Founder and CEO, Adam Goldstein. "Their recognition that our Midnight aircraft meets what the customer demands in the UAE market and desire to secure the purchase of up to 100 Midnight aircraft is another exciting validation of our efforts to bring to market an aircraft that will revolutionize how people move in and around cities."
"This remarkable opportunity signifies the ongoing evolution of Air Chateau, heralding a transformative era in our industry. Embarking on our journey into being an infrastructure provider two years ago for helicopters, today, we stand at the precipice of realizing our vision for the future of urban air mobility with eVTOLs in Dubai and across the UAE. The support of our visionary partners has been instrumental in our journey, and as we unveil this exciting chapter, we are privileged to share a collective vision. We are very grateful for having the opportunity to pave the way for the future of Air Mobility in Dubai with Archer" said Dr. Samir Mohamed, Chairman and Founder of Air Chateau.
In October, as part of Archer's announcement of its plans to commence air taxi operations in the UAE in 2026, Archer also laid out its intent to build an engineering Center of Excellence to support the growing advanced air mobility industry in the UAE and across the Middle East and to collaborate with local manufacturing companies and Maintenance, Repair, and Overhaul providers in Abu Dhabi to spearhead the production of eVTOL aircraft, furthering Abu Dhabi's efforts to grow its Smart and Autonomous Vehicle Industry cluster.
# # #
About Archer
Archer is designing and developing electric vertical takeoff and landing aircraft for use in urban air mobility networks. Archer's mission is to unlock the skies, freeing everyone to reimagine how they move and spend time. Archer's team is based in Santa Clara, CA.
To learn more, visit www.archer.com.
Archer Media Contacts
The Brand Amp - Archer@TheBrandAmp.com
About Air Chateau
Air Chateau is the first and only Private Heliport Operator Company in the UAE having its Heliport's VIP Lounge Terminal at the Land side of Dubai World Central (DWC) Al Maktoum International Airport – Dubai Helipark. Present operations cover ultra-premium last-mile services targeted at the Ultra High Net Worth Individuals (UHNWI) audiences. With multiple touch points across the UAE, the operation offers seamless connectivity between Airports, cities and to strategic points around the UAE. 
Air Chateau is currently adding state-of-the-art hangar, and will hold the first commercial hangarage facility located outside an airport in the UAE. This impressive facility can accommodate up to 10 helicopters, including 5 medium and 5 light helicopters for regular hangarage or 6 helicopters undergoing heavy maintenance.
Air Chateau's Media Details 
Contact: Wendy Swindall 
Title: Marketing & Communications 
Email: w.swindall@airchateau.com
Mobile: +971 52 324 3573
Archer Forward-Looking Statements
This press release contains forward looking statements regarding Archer's future business plans, including statements regarding the timing, amount and value of the planned purchases of Archer's aircraft by a third party and certain related pre-delivery payments, the timing development, commercialization, and certification of its eVTOL aircraft, business opportunities, and the expansion of Archer's business internationally. In addition, this press release refers to an MOU that is conditioned on the future execution by the parties of binding definitive agreements incorporating the terms outlined in the MOU, which definitive agreements may not be completed or may contain different terms than those set forth in the MOU. These forward-looking statements are only predictions and may differ materially from actual results due to a variety of factors. The risks and uncertainties that could cause actual results to differ from the results predicted are more fully detailed in Archer's filings with the Securities and Exchange Commission, including its most recent Annual Report on Form 10-K and Quarterly Report on Form 10-Q, available at www.sec.gov. In addition, please note that any forward-looking statements contained herein are based on assumptions that Archer believes to be reasonable as of the date of this press release.  Archer undertakes no obligation to update these statements as a result of new information or future events.
Source: Archer
Text: ArcherIR